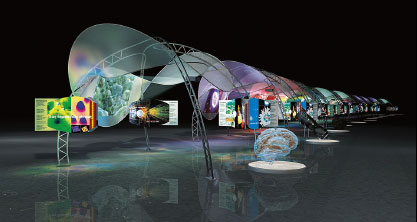 Science Tunnel
SPECIAL EXHIBITION
COME AND BE AMAZED! February 26 –April 13, 2008
The Max Planck Society's "Science Tunnel" invites you to take a journey to the future of scientific discoveries.
A stroll through the "Science Tunnel" makes one thing very clear: We are witnesses to the dawning of a new age of knowledge. As if on an assembly line, modern research appears to be turning out new insights into all areas of science with ever increasing speed. Fundamental new discoveries about mankind and the world in and around us are not only deeply changing our lives, but also that of society and the economy – both nationally and internationally.
We are living longer, have more effective medications at our disposal and are producing larger amounts of foodstuffs that ever before. How and what we learn, as well as our intellectual soundness, is improving continuously. The driving forces behind these developments are mutually enhancing, leading to increasingly more efficient computer chips and telecommunication bandwidths, new materials, and innovative technologies in genomics, bio-, chemo-, neuro- and technology-informatics.
The last 25 years will seem slow to us in comparison to the coming ones; the perspectives of our entire civilization are undergoing a deep-rooted transformation. We must take on the global challenges facing us – climate change, the energy needs of the coming generations and environmentally-compatible economic development.
As part of its successful tour through some of the most important international museums in Tokyo, Singapore, Shanghai and Seoul, for example, the "Science Tunnel" will now be making a stop in Berlin. Pay a visit to the multimedia-world of cutting-edge research! Find out what scientists and researchers are up to today, and which questions they are seeking to answer in the global arena.
Opening times: daily 9:30 a.m. – 5:00 p.m.
Location: Thaer Hall at Humboldt University – neighboring building to the right of The Museum of Natural History 42
Admission free